When you are on the keto diet, you may wonder what you can eat in place of your favorite pasta dish. One of the concerns people have when they get started on the keto diet is how they will survive without some of their favorite meals. Pasta is a staple for many people, but it is not keto-friendly because it is loaded with carbs.
The good news is that there are many pasta replacements that are delicious and low in carbs. One of the best alternatives is spaghetti squash, which contains only 5.5 carbs in each cup. You can use it or other substitutes to make all of your favorite dishes, including mac and cheese, spaghetti, and more. This allows you to enjoy your favorite Italian dishes and stay committed to your keto lifestyle.
Low-Carb Pasta Noodle Substitutes
Although spaghetti squash is one of the most popular keto-friendly alternatives to pasta, there are other choices. Take a look at some of the great low-carb options.
Zucchini Noodles
You can make zucchini noodles out of raw zucchini using a spiralizer. Also called zoodles, you simply put the raw zucchini through the spiralizer and you get low-carb noodles made out of zucchini. While pasta is loaded with carbs, zoodles are very nutritious and free of gluten, grain, and wheat. When you have one cup of zoodles, it will only set you back 20 calories with 4.2 grams of carbs, 0.2 grams of fat, and 1.5 grams of protein. In addition, you get vitamin C and vitamin B6.
If you use a spiralizer, you can turn many different low-carb vegetables into a pasta substitute, including cucumber, summer squash, and kohlrabi. Once you use the spiralizer to create your low carb veggie noodles, you can place them on a paper towel to dry. Then, you can place them in a skillet with olive oil and turn the heat on medium for one or two minutes.
Egg Noodles
You can also make egg noodles as a pasta substitute. When you make them, you can combine eggs, seasoning, and cream cheese to make a keto-friendly noodle, and you should make only what you can eat because it doesn't keep well. You can mix these ingredients together in a blender, and use the pulse setting. Then, you will roll it onto a baking sheet. You can bake it for eight minutes at 325 degrees, and when it finishes, you can slice it into noodles. These noodles will have just 60 calories containing no carbs, five grams of fat, and 3.5 grams of protein.
Shirataki Noodles
Another pasta substitute is shirataki noodles, which are also called miracle noodles. They are one of the only noodles that have no carbs at all. They are made up of 97% water and 3% dietary fiber, and one serving size has around one gram of carbs, no fat, and no calories. One of the great things about these noodles is that they have no taste and they absorb the flavor of anything you cook them with. They are often used in Asian dishes, but you can use them when you are looking for a keto-friendly substitute for pasta as well.
Cabbage Noodles
Cabbage noodles are strips of cabbage that are cut and then fried in a pan. It is sweet with a tinge of bitterness, which is typical of cruciferous vegetables. You can use any type of cabbage to make cabbage noodles, and they can help to fill out any meal. Cabbage is loaded with nutrition, yet it is low carb and keto-friendly. You get the health benefits including anti-inflammatory properties, anti-oxidants, anthocyanins, and vitamins C and K, folate, magnesium, calcium, and potassium.
Spaghetti Squash
Each of the pasta substitutes listed above can be used in your favorite recipes. However, spaghetti squash is ideal for the dishes that use a heavier Italian sauce because of its texture. This squash is a winter squash that is simple to cook and has low carbs and low calories. There are a number of different ways that you can use spaghetti squash to take advantage of its nutritional content.
Spaghetti squash has a number of important nutrients, including the following:
Vitamin C: Vitamin C is important because it helps your body create collagen, which aids in healing your skin and promotes hair and nail growth. In addition, your body breaks down food to create energy, and free radicals are formed as part of this process. These free radicals will attach to your cells and damage them, which can lead to other diseases. Because vitamin C is an antioxidant, it can help to protect your body from damage from these free radicals.
Vitamin A: Spaghetti squash is also a great source of vitamin A. It is full of carotenoids, including alpha-carotene and beta-carotene. They function as antioxidants that can help to ward off inflammation. Vitamin A plays an important role in your body function, including your immune system, your vision, and your reproductive functions. In addition, vitamin A can help certain organs function properly, including your kidneys, your heart, and your lungs.
Vitamin B: There are some important B vitamins, including niacin, folate, riboflavin, thiamin, and pantothenic acid. These vitamins are important because they help your body break down any carbs into glucose to make energy for your body and its cells to function. These vitamins can also break down fats and proteins, and they help to manage your eyes, hair, skin, mouth, and liver.
Manganese: This trace mineral is essential for brain function, and it helps the enzymatic systems and the nervous systems. It also helps your body metabolize carbs, and it helps your immune system and your reproductive system function at their best. In addition, it assists vitamin K to help your blood clot.
Potassium: There are a number of benefits to potassium, and it helps you maintain a healthy heart, nerves, and kidneys. Potassium and sodium work together to stimulate your nerves and your muscles, and it also helps with the strength of your muscles, as well as your metabolism, your water balance, and your nervous system. This is a very important mineral.
Magnesium: This mineral is important for building bone and protein, and it is necessary for your blood sugar levels, your blood pressure, and your nerve and muscle function.
Keto Spaghetti Squash Nutrition
With all of the important nutrients in spaghetti squash, it is a beneficial substitute for pasta. It has the above minerals, including vitamins A, B, and C, magnesium, manganese, and potassium. It is keto-friendly, and it works well in most pasta dishes. It can also handle heavier Italian sauces better than other keto-friendly substitutes.
Keto Spaghetti Squash Is Comfort Food
It is easy to make your spaghetti squash noodles. You can cut the squash in half, and then you can bake the noodles between 30 and 45 minutes at 400 degrees Fahrenheit. Once it is ready, you can make simple dishes, such as spaghetti and meatballs using grass fed beef and mozzarella, parmesan cheese, and fresh basil. This is great comfort food for most people.
How to Cook Spaghetti Squash
A spaghetti squash is a large vegetable. Some people cut it in half before they cook it, but you can also cook it whole. It has thick skin, and you need to pierce it before you cook the squash so that the steam has a way to escape. You can make it easier on yourself by using an ice pick to pierce the thick skin.
However, the best way to cook spaghetti squash is to cut it in half lengthwise. Once you do, you can scoop out the seeds. Next, you can drizzle a little bit of olive oil along the insides, and sprinkle a little bit of salt and pepper. Make sure that you poke holes in the outer skin, and place it on a baking sheet with the cut side down. You can bake it for between 30 and 45 minutes at 400 degrees Fahrenheit.
This is just enough time to make sure that your spaghetti squash is tender and soft. Once it cools a little bit, you can use a fork to scrape the stands out of the squash. You can start from the outside and work to the inside. You will be able to fluff them up along the way so that you have a pasta equivalent. Once you have finished, you can use it in your favorite spaghetti squash recipes.
In Closing…
When you are on the keto diet, there are a lot of delicious foods that you can eat. Although pasta is not keto-friendly, spaghetti squash is a delicious substitute that allows you to eat your favorite pasta dishes without worrying about getting kicked out of ketosis. Once you learn how to prepare the spaghetti squash, you can choose some recipes to make different meals. You can enjoy anything from spaghetti squash and meatballs, baked spaghetti squash, and spaghetti squash alfredo. Anything you can imagine with pasta can use this wonderful substitute. Once you start making these dishes, you will no longer miss your pasta. Try a few of these recipes and enjoy spaghetti squash meals.
---
Spaghetti Squash Recipes
You can use this dish as a main dish or a vegetable side. As you follow the recipe, keep in mind that the actual cooking time will depend on your oven as well as the size of your squash.
Author: Jeanine Donofrio
Prep time: 5 minutes
Cook time: 35 minutes
Total time: 40 minutes
Category: Dinner or side vegetable
Cuisine: Italian dish
Serves: 2 to 4 people
Ingredients
1 spaghetti squash
Extra virgin olive oil
Sea salt
Fresh ground black pepper
Instructions
1. Preheat your oven to 400 degrees Fahrenheit
2. Cut your squash in half lengthwise and scoop out the seeds
3. Drizzle olive oil on inside and then sprinkle a little salt and pepper
4. Poke holes in outside and place squash on the baking sheet and roast it for 30 to 45 minutes until it is soft and tender
5. After it is finished cooking, let it cool and then scrape and fluff the insides with a fork. You can serve it as a meal or as a vegetable side.
Nutritional Content
Serving Size: one cup
Calories: 31
Carbs: 7 grams
Net Carbs: 5.5 grams
Fat: 0.6 grams
Protein: 0.6 grams
---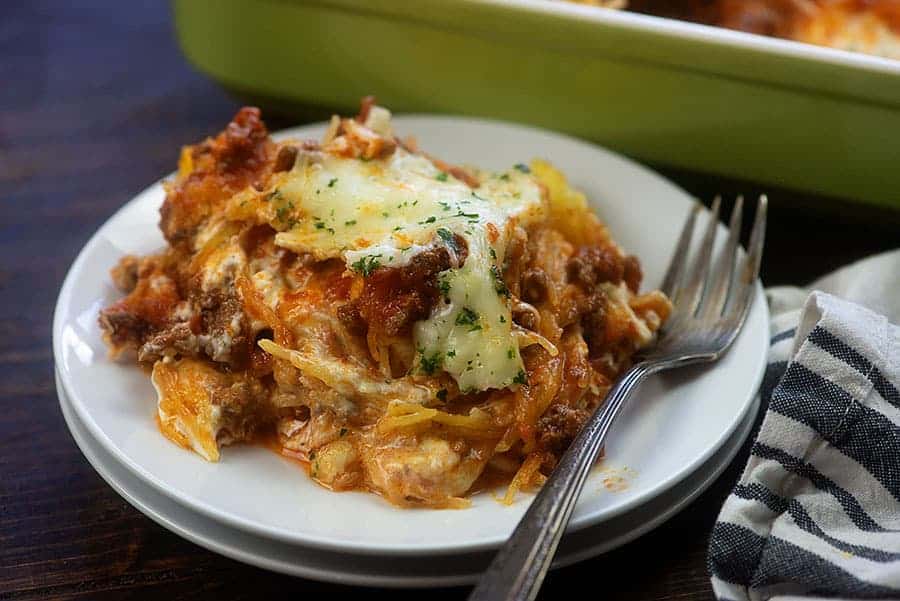 Author: Karly Campbell
Prep time: 20 minutes
Cook time: 1 hour 20 minutes
Total time: 1 hour 40 minutes
Category: Dinner
Cuisine: American
Serves: 6 people
Ingredients
1 spaghetti squash
1 tablespoon olive oil
1 teaspoon salt
1 pound ground beef
24 ounces marinara
8 ounces cream cheese
½ cup sour cream
1 tablespoon chopped parsley
2 cups shredded mozzarella
Instructions
Spaghetti Squash:
Preheat your oven to 400 degrees Fahrenheit
Cut your spaghetti squash in half lengthwise and scoop out the seeds
Drizzle olive oil on the inside and sprinkle it with salt
Place the squash cut side down on a baking sheet and roast it for 30 to 45 minutes.
Take it out and cool it, and then scrape it and fluff it with a fork
Meat Sauce:
Brown the ground beef in a large skillet over medium heat
After you drain the grease, add the marinara sauce
Cook for five minutes over low heat
Cream Cheese Mixture:
Mix cream cheese, sour cream, and parsley in a small bowl
Stir it well
Bake:
Preheat your oven to 350 degrees Fahrenheit
Spray a 9 x 13 baking dish with non-stick spray
Put half of the spaghetti squash in the dish
Add half of the meat sauce
Then cover it with the entire cream cheese mixture
Add the rest of the spaghetti squash
Place the rest of the meat sauce on top
Sprinkle it with mozzarella
Bake for 20 minutes
Serve immediately
Nutrition
Serving Size: one cup
Calories: 413
Carbs: 10 grams
Net Carbs: 8 grams
Fat: 35 grams
Protein: 21 grams